I missed the Skeins sale today, so I'm going to have to find some other source of plush DNA scarf yarn. Oh well, the sour grapes part of my brain is telling me that they are so over-priced, 25% off isn't that big of a deal anyway.
Though I seem to have been html centered, I have been doing some actual knitting in the past few days and I have the photos to prove it: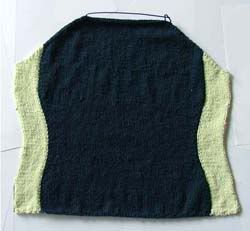 Yup, it's the finished front to Tricot. Or so it claims. I think it may actually be the back because 1. Who writes patterns where you make the front first?, and 2. There is no split for the collar, and it looks like it is in the "back" section of the pattern. As I continue knitting, I guess I will find out. I cast on and did the first three rows for the next part, whatever it may be, but I forgot the beginning is on smaller needles, so that will need to be restarted today. Hopefully this will not give me as much trouble as the first section did. It is such a simple pattern, but I seem to inject a little trauma into anything I do and this has been no different. At one point I had to frog forty (count 'em:
40
) rows because I did the decreases in the wrong color area. Then when I started knitting again, I went four rows before I realized I was doing the exact same thing again! I got it all straightened out now, so here's hoping the next bit will be smoother. I'm also using yarn of a different gauge than the CottonEase the pattern was written for, Jaeger Cadiz, but other than extra math that really hasn't caused any problems yet (knock on wood). I can't wait to get this done; everytime I've worked on it I've really wished I was wearing it.