I will be finishing the description of my vacation today, and we will return to our regularly scheduled program.
The only things left to mention about Helsinki are that all of the restaurants in Rick Steves are closed so rather than walking all over the city you should eat at the Picnic sandwich place (yum), and that we went to the Finnish Folk Museum. There I got to read many things about Finnish history and culture (which was pretty much entirely new to me) and saw the way clothing was made before knitting really caught on: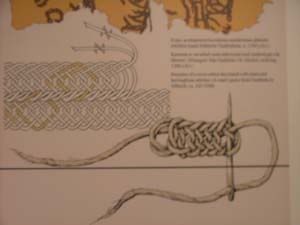 This seems fun to look into and give a try, but the thought of making all of my clothes this way makes my hands ache.
Thursday:
After getting back to Stockholm we looked around a bit. And a bit more once a mad dash through the city failed to catch our train. Never, ever say that you "wish you had more time here." That's exactly what happened in Oslo, too.
We spent most of our time in the Gamala Stan (old) neighborhood, which was very cute.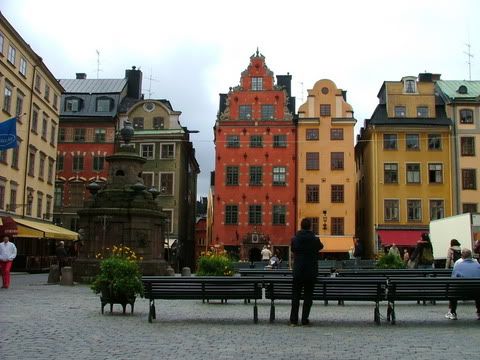 The armory of the royal palace was pretty cool, especially the coach exhibit. The coaches were amazingly ornate.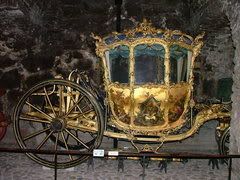 Learning about the history of Sweden from the audioguide restored some of my pride in the quarter of my heritage that is Swedish. I had been beginning to wish I were Norwegian instead, because their history and culture are just so cool...
I toured a very nice church, which had these royal "box seats" dating to the middle ages. As an American, I just can't really understand what it would be like to live my daily life around these immensely old things. It boggles my mind.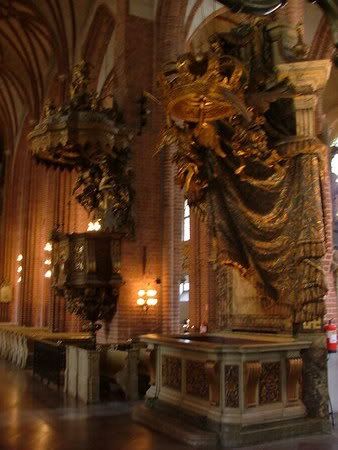 We took a night train to Copenhagen, which I love doing. Even though the train was almost sold out, forcing us to fork out the money for couchettes, it was a much better deal than a hotel and we got to sleep during the boring travel part. I hate wasting days on transportation.
Friday:
Rather than staying to look around, we breezed through Copenhagen on to the suburbs for Roskilde (to see more Viking Ships) and the Louisiana (to a modern art museum). The Viking ships in Denmark were not as well preserved or interesting as those in Norway, but the museum had much more on their construction and an interesting exhibit on Vikings in Ireland. We were pretty disappointed in the Louisiana. The art was not very interesting (there was about one painting each from the famous artists mentioned in RS), and it was very expensive. The grounds were a lovely park with great views, however.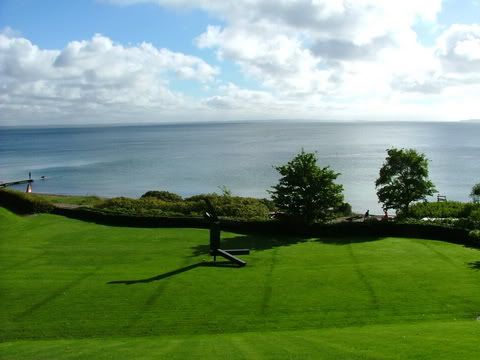 If we lived there I could see it being a very nice place to spend a day picnicking.
At the end of the day we took a ferry to the island of Aero. This was probably our favorite part of the trip. We walked to a hostel just out of town (then walked back into town to the ATM because they only take Danish credit cards. Damn you Rick Steves.) and stayed the night. It was a very nice, clean place, and we had our room of four bunks to ourselves.
Saturday:
At breakfast we encountered a very clever cheese cutter that raises the cheese as you spin the crank to cut off a slice. This was right up there with the collapsible spoon you get with your yogurt! (Please bear with me: I'm an engineer married to an engineer.)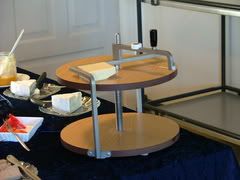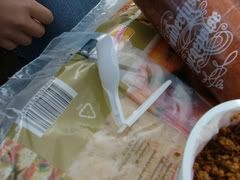 We rented bikes from the hostel, and after a bit of poking around the town of Aeroskobing we went biking around the island. Here is a little tour of what we saw: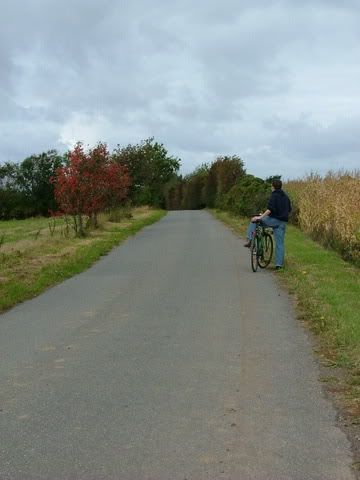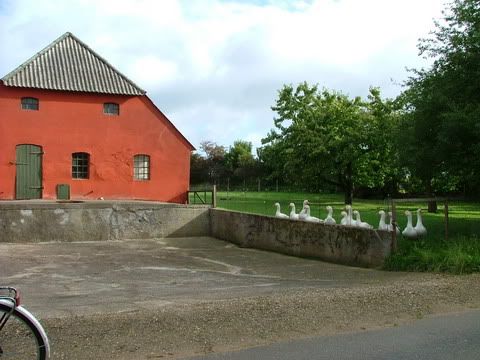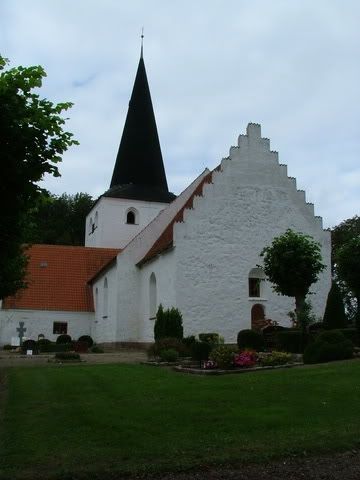 The ceilings were painted in this traditional fashion from the middle ages. There were also model ships hanging from the ceiling, which is apparently very common in Danish churches.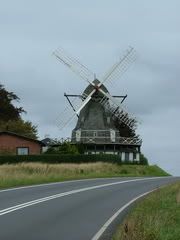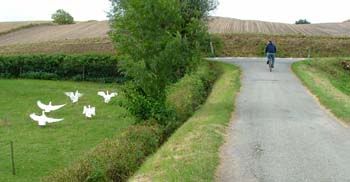 These guys were hilarious when we biked by.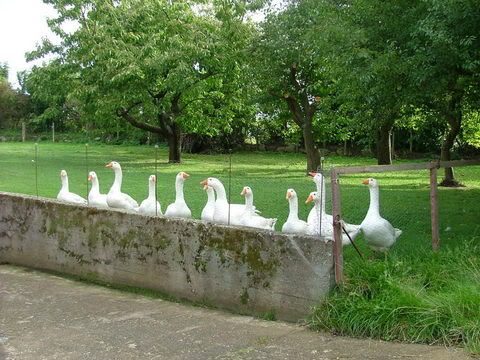 I'm pretty sure everyone on the island has Guard Geese. They were fine with us stopping there, but went nuts when I took one step too close. I stepped back, and everyone was quiet again.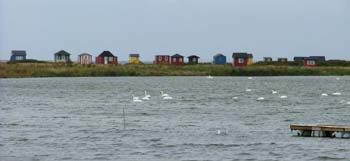 Aren't these beachhouses adorable? And look what's in front! Real, live swans!
The bike tour was not entirely wonderful, as we got horrendously lost (terrible directions from a certain guidebook, perhaps?). This of course happened right when we were starting to get tired and a freezing rain began. Fortunately, the rain didn't last long and we found our way back, though the trip was much, much longer. Overall, our time on Aero was still great.
We then proceeded to make the biggest mistake of our trip; staying at the Sleep-In Green in Copenhagen. This was a hostel, but not an IYH affiliate. We could tell it was a little grungy, but it was really cheap and just seemed like a dirt-cheap student place. There were lots of nice people there, and they made great hot chocolate, so we stayed and didn't worry about it. We rented blankets and they had run out or something so they gave us old blankets and a refund. Again, we were just happy we had gotten something free. Then I woke up with huge, itchy, red welts all over my body. Apparently I had been attacked by bedbugs (I had no idea that was an actual, specific type of bug). The itching would last for days and the welts for weeks. I was miserable for the rest of the trip, and especially the flight home. Suffice it to say; don't stay there. Of course, this could just be filed under s**t happens and wasn't really their fault (after all, Mark had no problems), but with tons of other places to stay in Copenhagen, why take the risk?
Sunday:
Our last day in Europe was spent looking around Copenhagen. We had icecream on the waterfront of Nybro: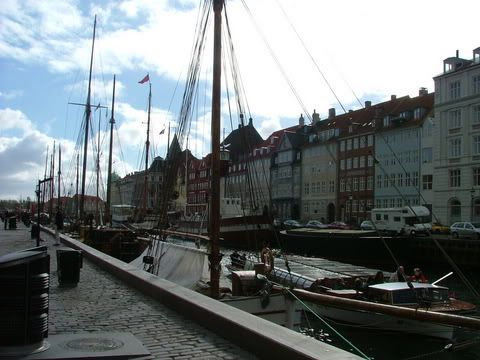 We did a walking tour of the town, on which we found a bust of Neils Bohr:
Hans Christian Anderson told me a story: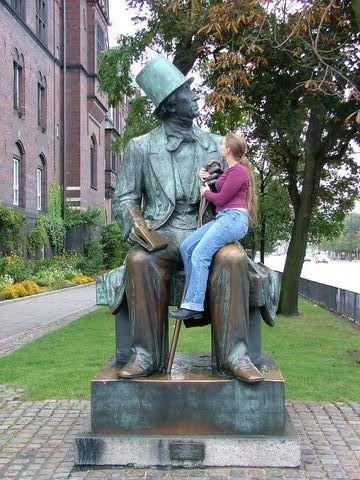 And, of course, we visited the little mermaid: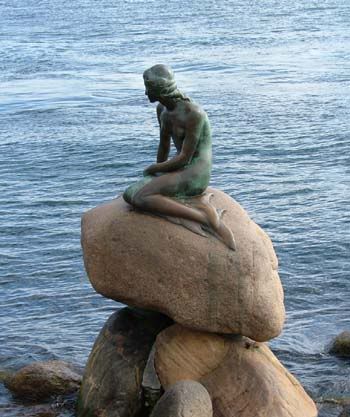 We also went to the National Museum to learn about Danish History. It was not as good as its counterparts in Norway, Finland and Sweden, but was fun. We raced into the art museum two minutes before close to see The Thinker, but discovered it was unavailable due to renovation. That was disappointing, but at least then we didn't have to feel bad about getting there with so little time.
Rather than pay to stay anywhere that night, we rode the train as far out of town as we could and still catch a train back before midnight (we were out of days on our railpasses). We slept on the trains and then in the airport before our 6am flight to Amsterdam. It sounds horrible, but it really wasn't, and was less stressful than paying another $100 to really stay anywhere (our accounts were pretty dry at this point.)
That's pretty much it for the trip, except for one last detail: you will never guess who was on our plane back to Seattle. The one, the only, Rick Steves. It was crazy. Had this been on my last trip to Europe I would have run over and joined the crowd gushing. Well, maybe not, but I would have thought about it, and my thoughts would have been with them. This trip, however, I just restrained Mark from going to explain what he thought of the Scandanavia book up close and personal, and sent hate rays with my brain. Not that we won't use his books in the future, but it had been a long trip.