Let's see if this will post now...
Tuesday:
The five hour train ride to Stockholm actually wasn't too bad, but we had to walk all over creation and back to discover the TI had moved right next to the train station. Very convenient if you know... Then we had to go back the exact way we had come to buy our Helsinki cruise tickets (
so
worth it, but I'll get to that). At least by then we had dropped most of our stuff in a locker for the day and could begin to enjoy what an awesome city Stockholm is. I think it may have been my favorite. Olso was very nice, but pretty nondescript. Stockholm has all kinds of old and interesting architecture everywhere. It just had more character.
We started with the Nordic Museum, which was built like a Danish castle and very cool. If you are into social history, this is the place for you. They had all sorts of displays on daily life, dining, festivals, etc set up with wax dummies (Scandanavia has a penchant for putting dummies in all of their displays, sometimes hiding them in corners where you don't notice them until you're alone and see them out of the corner of your eye where you're sure no one was before. I swear those things come to life and dance around eating human flesh whenever no one's looking.) The audioguide was free and really interesting. I have never bought an audioguide before (I'm very cheap), but I loved this museum that would have been pretty boring without it so I started taking Rick Steve's advice on when to get them more seriously.
Before setting sail we went to see the Vasa Museum. It was fascinating, and probably our favorite site of the whole trip. The Vasa was an incredbly elaborate 17th century warship (named after the father of modern Sweden) that sank 15 minutes into its maiden voyage and was brought back up from the ocean floor 333 years later.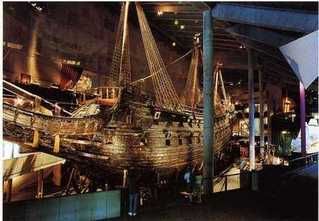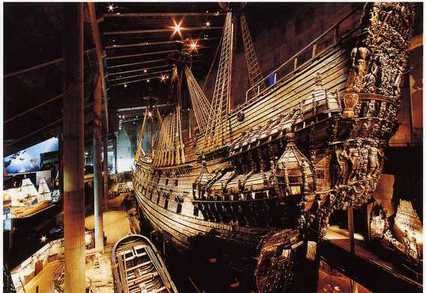 Isn't that amazing? It has been described as "the world's largest jigsaw puzzle," because lots of the outer boards and ornamentation had fallen off and had to be put back on. They compared the nail holes on every single piece of wood to those on the frame of the ship to put it back together! I can't even imagine how tedious that would be! You know there were a whole bunch of very happy anthropology grad students who got to sort through all of the muck and catalogue all the finds. That sounded really sarcastic, but I was serious. What a thesis!
Here's a detail shot to give you a better idea of how ornate this ship was: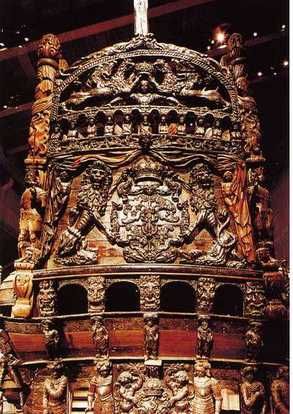 They are now working to figure out what colors everything was painted based on chemical analysis and knowledge of paints used at the time. Now that is a project I would love to work on (I would go nuts putting the boards back). For some reason it never occurred to me that these things were painted; I always thought they were just wood colored. You learn something new...
The exhibit about why the boat sank was particularly interesting to us as geeks - - I mean engineers. Unfortunately we couldn't stay for the movie about it.
Our overnight cruise to Helsinki was awesome. When we read about a one night cruise, we were not expecting this:
That's, like, an honest-to-goodness cruise ship! It's barely smaller than our week-long Caribbean cruise ship! That ship did not have a Turkish bath, an authentic Finish sauna, and many jacuzzis, though. This was the best deal of anything we did in Scandanavia. $260 total for two nights lodging, transportation to and from Finland, a smorgasbord dinner, and buffet breakfast both mornings!
Granted, the smorgasbord was a disappointment. If you have ever been to a buffet dinner before, it's not that exciting and is pretty expensive (almost $30 apiece). If you don't eat fish or seafood (a constant problem in Scandanavia) it really sucks. The substance of your meal is then lunch meats. There are of course salads and other incidentals, but you're not going to find a chicken breast, for example. I did get to try a few regional things that I hadn't before. For me, trying new food is probably the biggest part of experiencing a new culture. I was going around merrily plopping anything on my plate that I could be reasonably sure had neither fish nor bananas (eeeeew), when midscoop of something Mark asked what it was. When I cheerfully replied that I had no idea, he wailed "how can you do that?!" Some people have no sense of adventure.
Wednesday:
We only spent a day in Helsinki, but we really got around. Seven straight hours of walking will do that. There were some very cool things. Here's an areal view of one of them: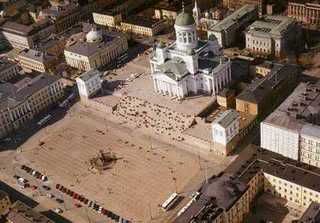 Now brace yourself for what I am about to say: that building is a
Lutheran
Cathedral. If you have no American (or the other parts of Europe I've seen) Lutheran expericence this may mean nothing to you, but let me tell you it's shocking. Here's another view: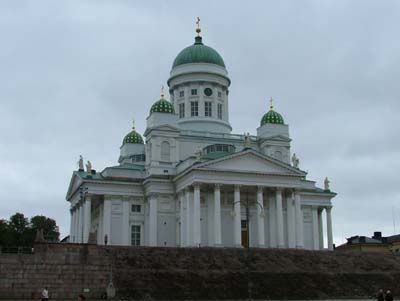 Surprising or not, this place is cool. Here's a shot of the organ and the main man: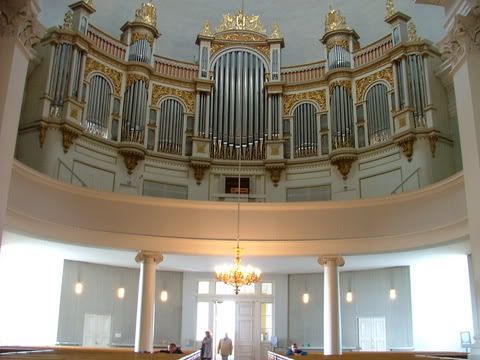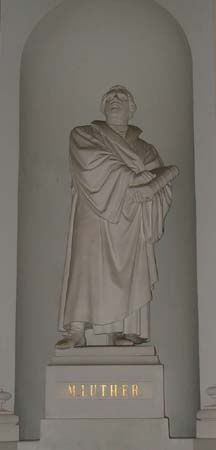 We also went to a Russian Orthodox cathedral. I had never been to one before, so this was pretty interesting.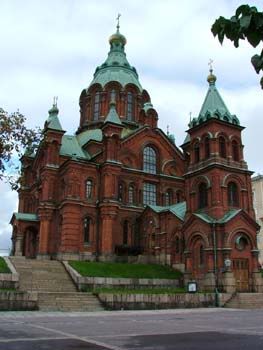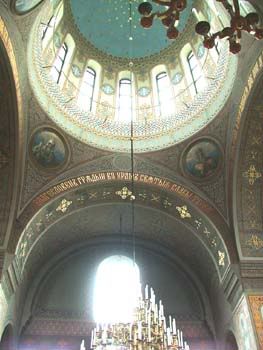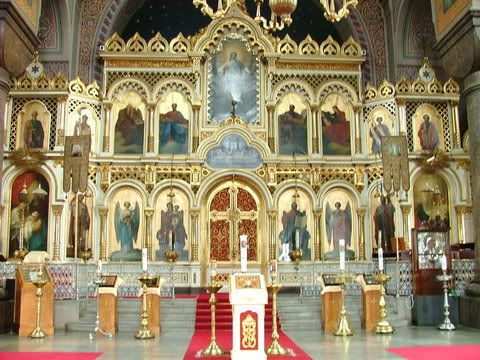 All over Helsinki we saw little guys like these: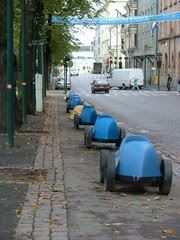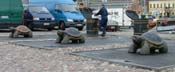 I'm not sure what they were for. My best guess is that they were "no parking" turtles and racecars. They were cute anyway.
Here is an example of something we saw a lot on our trip: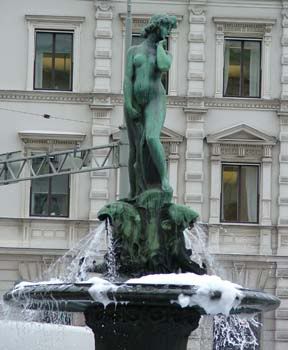 What's with the soapy fountains? Is it mold control?
I'm exhausted, so I'll finish Finland tomorrow. Just one last thing before I go: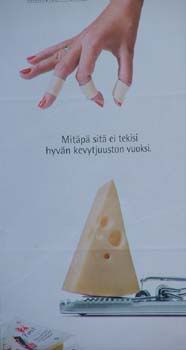 Behold the power of cheese?