I hope you all had a wonderful Valentine's Day! I sure did. Having a midterm wasn't great, but I got that out of the way early and then got to go to work at
Fiber Gallery
. (Including "getting to go" to work in an excellent day may be odd, but that's how much fun I have working there.) When I got home, I saw this: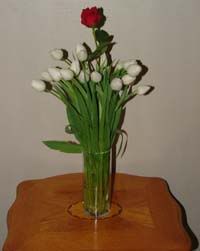 Yes, I seem to be off Valentine flower probation! (A few years ago I left my beautiful bouquet of specially ordered fire-and-ice roses at a store. I haven't gotten flowers since. Mark claims this is coincidental.) In addition to having great taste, Mark gets extra points for getting these form the
Pike Place Market
. I love the market, but the pressing crowd in such a small place panics him, so he generally refuses to go.
We also got the keys to my new apartment. I love it and am very excited, though I do have to remind myself that getting a smaller place is the point. In comparison our current place feels absolutely cavernous. Since we had an hour to get from Fremont to Belltown, Mark said it would be okay to go by way of Queen Anne so I still got to go to the
Purlygirls
for a bit. Then we had dinner at
Marrakesh
. Yum...
If you have never eaten at a Moroccan restaurant like this, fund one and go immediately - er, well, at least the next time you are really hungry, have lots of time, and are ready to splurge. In Denver we lived one block, the short side, away from Casablanca, a similar restaurant. Although it was the most amazing meal we ever had, we could only afford to eat there once in two years. Of course we had a combined income of about $8k/year at the time, but still.
These places are such an experience. You sit on cushions, or very low benches in heavily tapestried rooms. The meal is several courses; soup, salad (think baba ganoush/hummus/pico del gallo), a sort of really meaty quiche-like thing wrapped in phyllo dough (perhaps the best part of the meal), entree of your choice, baklavah, mint tea, and because it was Valentine's Day, champagne. Everything is eaten with your fingers or bread, so they wash your hands before and after the meal. At the end they sprinkle your hands (and at some places your face) with rose water so you don't leave smelling like food. There is generally belly dancing for entertainment at some point. Then you try to roll yourself home. (We got so full we almost wished we had driven the block to Casablanca.)
I think because it was Valentine's Day, so everyone felt like they had to do something extra special, there were a higher percentage of people who were not comfortable there last night. Many seemed really freaked out to be asked to sit on the floor, and the couple next to us really seemed to be trying to force the food and service to be more like a diner or something. They were not comfortable with the menu at all, and the fact that they were going to town on the wine selection did not make them more pleasant to sit near. As Mark and I discussed how really soup spoons are worthless utensils, they mocked everything and harassed the waiter and bellydancer. If you are that afraid of culture, go to Subway, it's right down the street.
What a great day, what a great restaurant. I'm sure I'll be hungry again sometime...