I got my computer back on Friday. And had to take it back in on Saturday. It worked this time, but they had forgotten to put the Airport (wireless) card back in, leaving me with an electricity sucking paperweight. Fortunately, Airport installation is something they can do in the store so I got it back the same day. So far, so good. I do think it will take me some time to fully heal, though. The trust is gone.
In knitting news, though, I have continued my bout of finishing. I present to you...
Honeymoon
.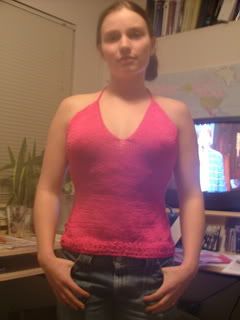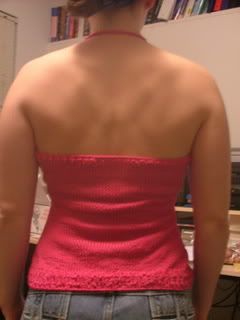 I used Garn Studio Cotton Viscose, a slippy, splitty, nightmare yarn that is oh so pretty. As you can see, I varied the pattern a bit. The triangles on the back rolled in a weird way, so I decided that a halter was the way to go. In order to keep the back from rolling, I added a swath of the lace from the bottom. I am very happy with the way it turned out. Now if only it were summer...
I also finished my husband's slipper socks, which he now wears at all times at home: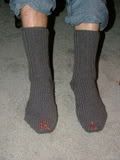 The "R" and "L" are because he is insane. He is certain that socks have rights and lefts, and divides them out every time he does the laundry. For this pair he requested that I make it easy on him and shape them obviously to his foot. I added the letters on my own. They are made out of Lana Grossa Due Chine, a nice squishy machine washable 50/50 merino acrylic blend.
Finally, I made knit up this kit from BagSmiths for the shop: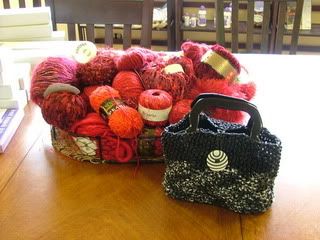 I held Melody with the cord that came in the kit for the bottom 2/3. I didn't really like knitting with the cord, but it was a very fast project, and the style has really grown on me.
And look!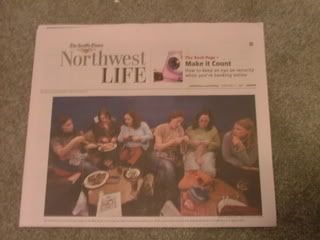 The
Purlygirls
made the
news
! The entire top half of the NW Life section. I had no idea we were going to be so big. I'm a little less thrilled that I'm chewing in the picture, and therefore look kind of funny, but my sheep dress is showing! I'm so proud.