Happy birthday to me! This has been a fantastic birth-2-day. Since I was working today (My new job at the Fiber Gallery is so much fun that working on my birthday was in no way a downer), I celebrated with my department over lunch yesterday. We went to the International District for Dim Sum, which is always fantastic. I spent some time in the library and wandering around downtown just enjoying myself. Then during knitting tonight, Marti, Rose, Cass, Jeanne, and Jessica surprised me with gifts: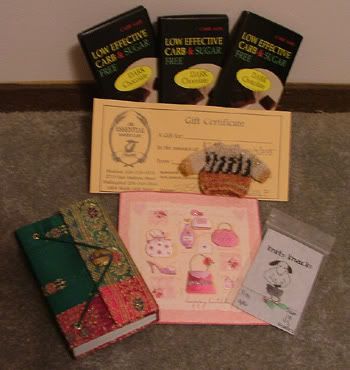 Aren't they perfect? The gift certificate is for where we meet to knit twice a week, the notebook goes so well with my little brocade knitting purse, the card is perfect, and I have been lusting after beaded stitch markers lately. Marti made the teeny sweater, which is adorable. I love that they know me so well they gave me sugar-free dark chocolate rather than cake. Awesome.
This morning after class I discovered a Happy Birthday banner over my desk, which was so sweet. Things were great all the way through this evening. A good friend called from Denver to wish me a happy birthday even though she sounded deathly ill, and Mark and I went for the half price cheese and chocolate fondue hour. A bowl of dark chocolate and a deal all in one; how could it be better?
So now that we're all in a happy mood wishing me well on my birthday, I would like to point out a few blog entries that are new. Say... those from December 3rd to now. I had some technical difficulties and travelling, so all of my blog entries were on plain outdated paper that actually came from trees. I didn't want them to just go to waste, so I posted them. I'm sorry. It will never happen again. Please forgive me, it's my birthday.