I love, love, loved New York. This wasn't really a surprise to me since I love cities and it's THE city. I walked miles and miles all around the city, rode the subway, went to all the big museums, saw all the big sites, ate pizza in Little Italy, had a bagel in the Bronx, hailed a cab, got out of the cab because it would be faster to walk, saw a Broadway show, and walked the Brooklyn Bridge. You've all seen pictures of the Statue of Liberty and such, but here are some less common snippets from my photo album: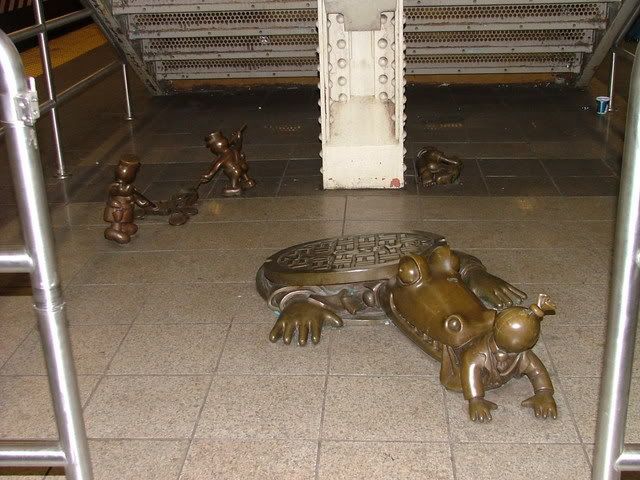 Some subway stations are fancier than others. I loved the art around this one.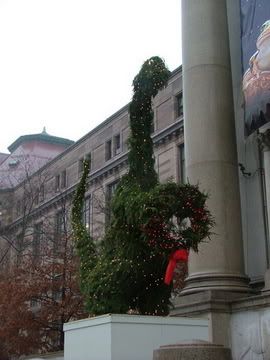 A little Christmas cheer at the Museum of Natural History.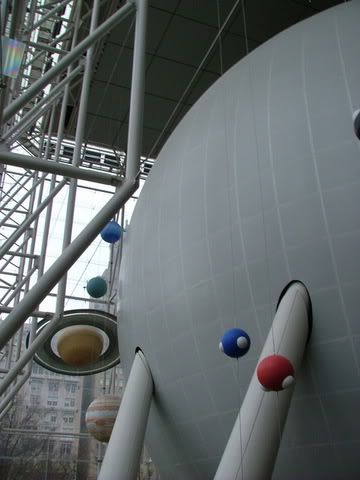 This was very cool. The big gray thing is the Hyden Sphere, a model of a meteor that hit Earth. It is used as a comparison with the things around it to get a feeling of relative sizes. For example, you can see the size of Saturn in the background if the Hyden Sphere is the Sun. The items being compared run from galaxies to quarks. Awesome.
Hans and I are very close now. We do all of our traveling together.
I did, however make a tiny mistake coming home. When I looked at the time of my flight, I saw the time I left my connection in Minneapolis, not when I left New York. I was a tad late to the airport. Actually, the killer is that it really was only a tad. I decided to go "early" and just leave the hotel when Becca did for her supposedly earlier flight. Fortunately, the woman with Northwest was wonderful and straightened it all out. She couldn't get me to Seattle tonight, but she got me to Minneapolis and I'm leaving first thing in the morning. My mom was a little surprised when I called to ask to spend the night, and it feels ridiculous since I'm going to Minneapolis in three days, but it all worked out.