I have been knitting constantly, but not everything is going to get done. I got to the fingers on the second glove, and then noticed that something was amiss. Remember how I fixed my gauge on the mittens? Well, it stayed fixed;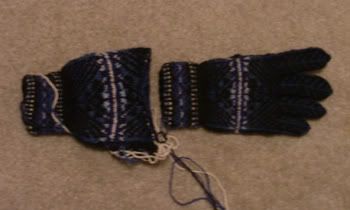 A somewhat more dramatic change than in the mittens, eh? At this point I realized I was going to need to start over on that one. I checked the clock; 23 hours until gift giving. I looked down at my knitting; I had about four more inches of black yarn. Damn. I went to every yarn store in the South Metro area. Only one carried Jamieson Shetland. And only in a hideous mustard yellow, pea green variegated colorway. 19 hours to go. I gave up. To replace the gloves, I got my mom this: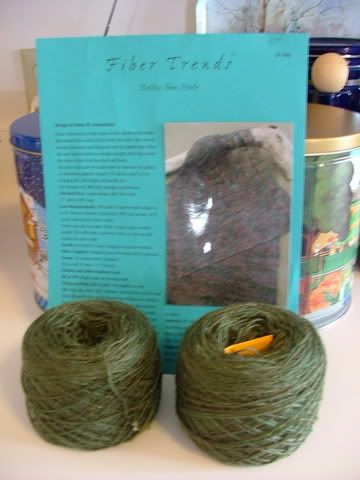 In case you can't see, it's the Fiber Trends Shoal Water Scarf pattern and Schaefer Anne yarn, a 60% merino wool superwash, 25% mohair, 15% nylon blend. I would have loved to get the yarn suggested in the pattern (Lorna's Laces Heaven), but just couldn't afford it. I hope there is enough mohair in this to get at least a little of the effect of the original. 17 hours to go (does this happen to everyone in yarn stores?). Following my mother's suggestion that my dad wouldn't notice if I knit his gift right in front of him, I worked on the DNA scarf until 3am and again until just now when I wrapped it up. I had to fold it just right so that you couldn't see that the needles are still attached.