Merry Christmas! I hope everyone out there is having a good holiday, or at least day off of work if you don't celebrate. We had a nice Christmas Eve with my family with the traditional wine and cheese picnic in front of the fire followed by present opening. I got a swift and ball winder! Yea! My mom liked the yarn, although seemed a little freaked out by the pattern. My dad is looking forward to getting his scarf back. My brother seems to like his hat and has been wearing it quite a bit: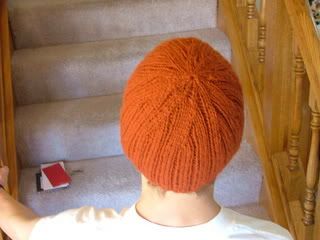 In fact, my cousin liked it so much that he made my grandma call to get the pattern to make him one (speaking of which, I will post it as soon as I figure out how to make it a separate link). We spent most of the day with them and the rest of my mom's family. The food was great, and my brothers, husband, cousin and I had fun hiding out in the TV room playing board games like we do every year.
My older younger brother got a funny gift from my parents. All he wanted was DVDs of various shows and movies, and my mom was worried he was becoming too much of a useless couch potato. Yesterday he opened a big box to find DVDs, a ball of yarn, and a pair of knitting needles. My mom said that if he's going to spend all of that time on the couch he's going to at least be productive and had to learn to knit. She had me teach him the continental method, since she wished she could do it but is 40 years too used to throwing. It was really interesting seeing how differently people learn, having taught Amy some of the same new techniques so recently.