I went out to Essential Baking tonight to find comfort food and take my mind off my missing my computer. Imagine my surprise and delight when I head friends calling me from a table. I had run into Jessica and Jean knitting with a group I wasn't familiar with, and they invited me to join them. Even better than knitting while reading the latest issue of Consumer Reports. The evening was revitalizing enough for me to blog a bit about the good things of the past few days.
Even though I decided to enter the SAMPE Student Speaking Symposium contest ten days after the abstract submission deadline, I got an email today that I had been selected as a semifinalist! And even better, the next deadline (the one that requires a paper based on some actual research) was moved back from 1 Feb to 21 Feb. If my paper is selected as a finalist, they will pay to send me to Long Beach, CA to present my work, and then I could win money. The first prize is $1000! I've got lots to do...
Knitting wise, I have made good progress on the Sheep Dress the Debbie Bliss Baby Knits Book.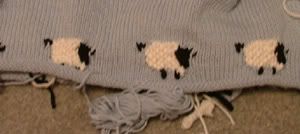 I've decided that I'm going to make it a little jumper with a crew neck instead of the long sleeve dress in the pattern.