Thanks to all those who have inquired as to the health of my computer. At this point it is awaiting a new harddrive with no expected arrival date. I definitely feel that they should just give me a new computer at this point. It would be much faster than rebuilding it piece by piece. And even if it does start working, how am I ever going to truly trust this one again? I have decided that I need to make arrangements for the long haul, and have set up the computer in my office to be more than just a larger monitor for my laptop. I'm back in business. But only during business hours.
Since the Great Computer Disaster of '05, I have gathered a few photos to share:
These are the fruits of my preswap-swap with a few friends. In back on the left you can see the yarn for Pasha. The orangish stuff on the front right is actually a nice pinkish yarn to make my Womb for Washington. (These were more donated than swapped by
Jessica
). The lovely gray in front is to satisfy that day when I said "Dang! I should have bought that Polar at the Churchmouse sale! It would have been perfect!" Does anyone remember why? I'm thinking baby hat for the pink and a nice pair of anklets from the Regia. The green cones are some very exciting lace-weight something. I'm torn between a Faroese shawl and the leaf cami from Knitter's Stash (and the secret hope that there might be enough for both).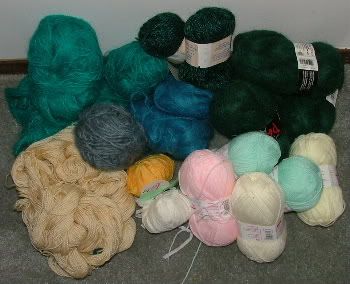 The official
PurlyGirls Swap
was great fun, and I'm very glad that a slow day at work allowed me to go. I went with the intention of consolidating my stash. This may not have gone quite as planned... And this after being drawn for last pick! I've been very attracted to mohair lately, so I grabbed most of what was there. The baby colored things are to have on hand for baby gifts, and I'm planning on trying some dying with the wool on the front left. The pretty green sparkly stuff in back will probably become tea cozies.
I have decided that February is for finishing. Especially those guilty inducing overdue Christmas gifts. I believe I actually squeaked this one in under the line and finished it on the 31st.
Yes, that damn DNA scarf is done, and my DH is modeling it and sharing in my joy. Or maybe his own private joy that I won't be complaining about it anymore. I don't know why, but this just wasn't a fun pattern for me. I decided a week ago that it absolutely must be finished, though, when I received the packet of Thank You cards from my family. I couldn't bear to read my dad's knowing it would run along the lines of "the scarf looked great... for the 10 seconds I had it. " The yarn is still absolutely scrumptious. In a move I can only afford for a gift, I made it out of Debbie Bliss Alpaca Silk. And I have almost two balls left! What to make for me...
Remember my baby cardigan out of Blossom?
I had to frog it completely because rather than the 3-6 month size I was going for, it came out a bit large for a tubby one year old. True, I hadn't done a gauge swatch, but I figured that being a bit off for someone whose size is changing daily shouldn't be a problem! Oh well, the whole thing only took about 4 hours anyway. Frogging to the ball winder actually went okay, it was when I decided to wind the ball that had exploded that what you see above occurred. And that yarn is not nice to try and get knots out of. Or see knots in. Or touch without creating knots. Bad Blossom!