I have finally finished the sheep dress and it is blocking as I type. My most recent modification to the pattern was to change the border (A question for Miss Bliss: what type of wire did you use in the border of your version? Because there is no way in hell that the one row of picots, which themselves curl in, stopped the curl of your dress). I began by doing a backward single crochet, chain stitch repeat along the edge which was very cute.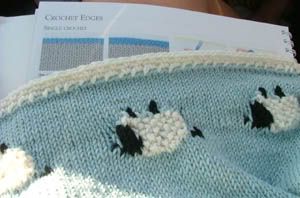 I got to three rows of single crochets before realizing that having connected to only every other stitch was not going to be enough structure. I gave in and just did three boring rows of single crochet and then the picots. The edge still flares a bit but it's not too bad and I'm hoping blocking will straighten it out. If not, it's fine.
Now take a deep breath before I show you the finished project, because your going to need it for the long "aaawwwwwww"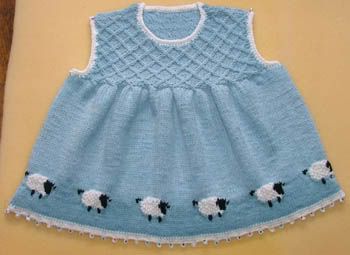 Is this not the cutest thing anywhere ever? I'm not bragging about the quality of the work (believe me, there are quality issues I wish weren't there); if chimps could make a vague representation of this dress it would be adorable.
The pattern is from Debbie Bliss: The Baby Knits Book. I of course only followed it in spirit. I knit it in the round (which made the sheep reeeeeeeeaaaaaally slow) and ommitted the sleeves and collar, adding the edging you see instead. I wanted to make it a bit more climate-versitle since who knows whatIn a bizzare twist of fate I had the actual yarn called for, and made it out of Debbie Bliss Wool Cotton (but in a much cuter color, not that blah grey in the book).
I think it's sweet enough for my new niece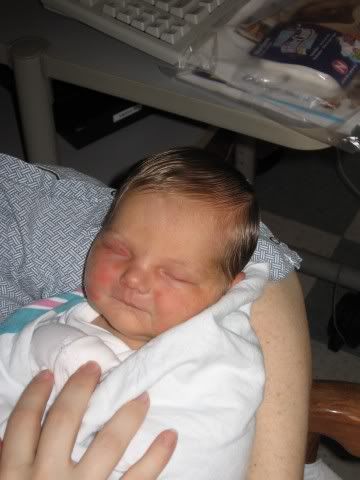 Oh, and it is destined to be unique. I will gouge my eyes out before weaving in all those ends again.