Jan 2nd: Happy new year and happy new sweater! I finish the knitting and sewing up of
Ribby Cardi
. All I have to do is put in the zipper, and I'm set.
April 12th: Back in MN where the sweater was finished, I actually go out and buy a zipper. Later that evening, I realize I have been so seduced by the promise of an "invisible zipper" that I failed to notice that it doesn't separate.
April 13th: I exchange the zipper, but must continue our progress in the move down south. No worries, as soon as I get back to Seattle in two weeks I can pop that sucker in. I'm prepared.
June 4th: Back in MN again, my mom asks incredulously if this is the same sweater. I actually baste the zipper in place, following Bonne Marie's excellent
tutorial
.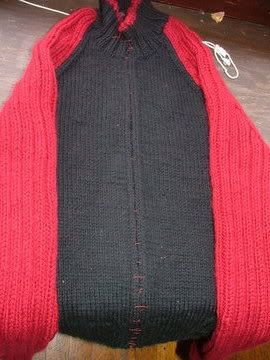 June 6th: With an hour to spare before leaving to catch my flight I frantically pull out my mom's sewing machine, wind a bobbin, and am ready to go. This is it! The sweater will be complete! I turn the crank to raise the needle and discover it is broken. My mom is at work. I have no idea where she keeps her spare needles. I've never changed one before. It's possible I'm not entirely packed. I swear and shove the sweater back in the suitcase.
July 16th: I finally drag out my sewing machine and realize the bobbin I stole from my mom doesn't fit and I can't remember how to wind a bobbin on my machine. The manual is in Mississippi.
July 19th, 9:30am: Jessica comes bearing
Sam
for a little zipper party. I remember where to put the bobbin to wind it, but it doesn't work. I wind by hand. This time I'm serious.
9:45: I realize the two pieces of the crappy plastic zipper foot attachment I bought won't actually fit together. I want to stress that these were two pieces that came together. I began to hear a funeral dirge drifting in from somewhere.
10:00: After calling around we find a very serious sewing supply store that will sell me a zipper foot (though thinks I'm an idiot since the only thing I can tell them is the brand of my machine, and I was damn proud of finally remembering that). In very small words they told me to bring in one of the other feet from my machine and they would help. But wait! It sounds like the zipper foot from Jessica's machine clips in the same way, we can just use that! We pack up the machine and our sweaters and move out.
10:15: You didn't really think that was going to work, did you?
10:30: Once in the store we find out that I already own a zipper foot, it just looks really weird compared to others we'd seen.
10:45: I cannot. Get. The damn. Thing. On.
11:00: I love the internet. I found the
manual
for my Elna, and though it was actually pretty poor, it was good enough that I figured out how to attach the foot. In case you ever need to do it, here is what it is supposed to look like: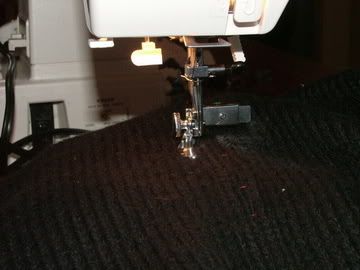 Great! Now I just have to sew!
11:45: Shit. I have to sew.
11:50: That girl who was so good in Home Ec seems to have died. As I rip out my work, Jessica realizes that my model of sewing machine isn't a good one for her: there's a knob right where she wants to bang her head in frustration. After bonding with my seam ripper a few times, I decide that my basting is actually causing me some problems on one side (twisting my I-cord), so I just follow one row of knitting and hope for the best.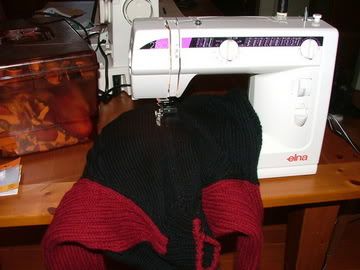 12:00pm: Given that I didn't breathe the entire time I was sewing, and every muscle in my body was clenched, I'm surprised to find I can become even more tense as I remove the basting to inspect the damage.
12:10: It actually looks okay! I rush to try it on. Jessica finishes and does the same. I can't get my zipper to reconnect. She can't get hers to separate.
12:13: I finally get the crappy zipper back together (note: zipper and zipper foot set both came from Walmart before The Oath. I rest my case.) My sweater looks great! (Zipper-wise, anyway. I want to redo the sleeves, as the ribs are just not flattering on me.) Jessica realizes that her zipper is not a separating zipper. Impressively, she does not collapse into tears. We take celebration and solice, respectively, in an Indian lunch buffet.
9:50: The dang sweater refuses to photograph well. I tried on me in the mirror, on the bed, on a hanger... this is the best I could do. It's much cooler. Really.