So it occurs to me that I haven't actually shown my Clapotis.
I love it. I wear it everywhere. I use it as a scarf on the way to and from work, and then as a shawl when my office is cold or when I dash somewhere on campus. It's perfect.
Here's the baby sweater I promised, knit from the leftover Jo Sharp Desert Garden Aran from Lara: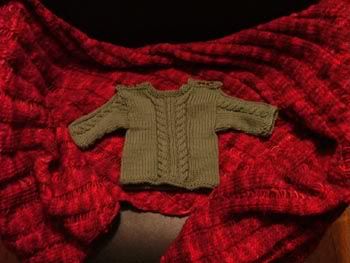 It's knit from Rebecca Home and Family, though I made some substantial changes. I knit it in the round, added button plackets, changed the size...