Uhhhhhh-ffffffffffffff...... *ah-choo!* Pardon me, just dusting off the old blog. I've said it before and I'll probably say it again; I do not blog well when in MS. This time was even worse as for most of the past month I was on the road driving to and from various family. I did take some pictures, though.
I finished a few presents: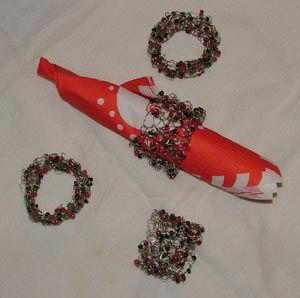 Napkin rings from Simple Knits with a Twist: these weren't nearly as bad as everyone says. They were slow, but not that bad.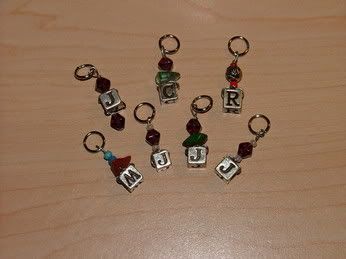 Stitch markers for my close knitting friends.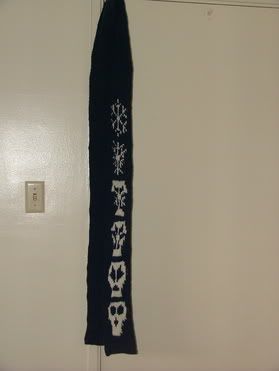 Scarf for my long-time friend Aaron using the chart from
the AntiCraft
.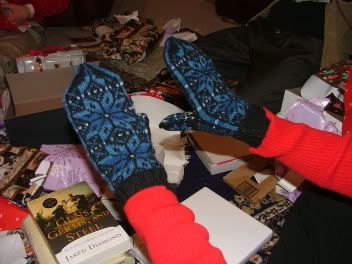 Okay, I already showed these off, but I'm just so happy with them.
We had our traditional Christmas Eve dinner: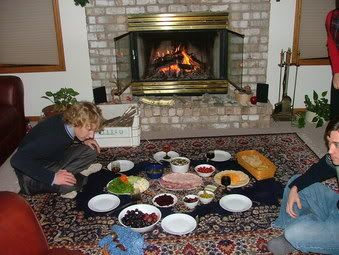 The stockings were... draped by the chimney with care: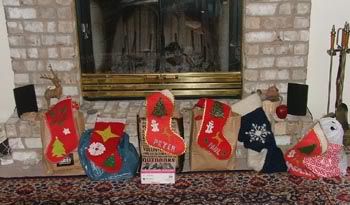 My great-grandmother made the felt stockings for me and my brothers and coincidentally my grandmother made a very similar one for my dad when he was growing up. In high school I made one for my mom so that she wouldn't be left out. The giganto-stocking you may remember from when I knit it last year for Mark. I've been meaning to re-knit it in a more reasonable size, but it is the only one anything fit in...
Mark and I got each other the same gift for the third year in a row (Shrek, a dart-board, and now alarm clocks). At least since we now live in different places it sort of makes sense to have duplicate items.
New ways to be entertained by a ball of yarn were developed: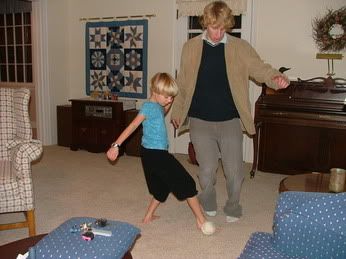 Mark spent his usual few hours throwing my cousins around and chasing them for copious tickling. He's been so busy with pilot training this year he's not had much time to work out, though, and was a bit unprepared: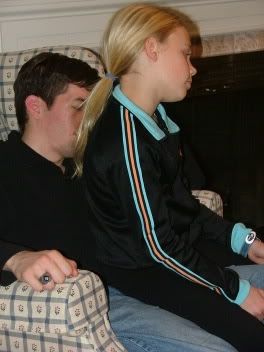 And I proved that I am very, very old by using my ability to chose anything at all to do on my birthday to drag a husband who couldn't complain around furniture shopping. (I also had a dream in which my apartment was broken into and the majority of my horror was from never having clarified whether my computer is covered under my renter's insurance or I need a separate personal article floater. 24 seems to be a pivotal age in adultness.)
We also saw the neice who was born in June and of whom we haven't seen even a photo since, but sadly I also forgot to take one. Speaking of adorable babies, one of Mark's classmates conveniently welcomed one on the very day I finished this gift: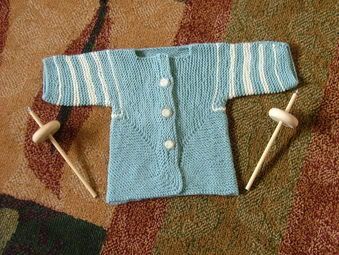 Isn't it just so cute? This is an Elizabeth Zimmerman Baby Surprise Jacket knit out of the leftover Debbie Bliss Wool Cotton from the Sheep Dress. It's a tad hard to see since they are of different reflectivity, but I used the layered button technique I saw on our trip to churchmouse. One tiny, detailed flower on a bigger, plainer one. I made Mark look at it and make appreciative noises about eight times the evening I sewed them on.
The drop spindles are two of seven I made in about a minute and a half from a dowel, a wooden car wheel, and a mug hook (all from Michael's). I made them for the two little blondes above. They've been knitting for a few years now, so it seemed a good time for the next fiber addiction. I also gave one to my mom. I'm not sure what I'm going to do with the other four.