Hey look, I finished the charted hand, and am ready for fingers on one glove. Check out the back, isn't it pretty?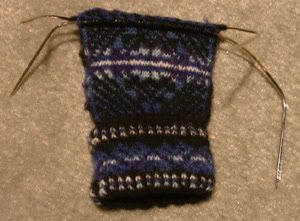 Let's just flip it over and ... OH GOOD HEAVENS!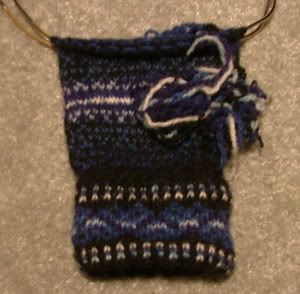 Yeah, the thumb is not going well. When I tried it on, my thumb was losing circulation, and my hands are pretty darn small. Not good. I tried just adding more and more stitches to the thumb, before giving in to the fact that the problem was the gusset. Then... I started cutting. I'm not quite sure how this began, but before I knew it there was enough space for an appropriately size gusset and a bazillion (yes, a bazillion. I counted.) teeny tiny really short ends. So the question is, do I just rip back to the cuff, again, and give it another go with more stitches? It did go pretty fast this most recent time. Or do I pick up stitches around the hole and try some sort of decreasing circle thingy based on what I see on gloves I own? Suggestions?