I recently (well, when it came out) became completely obsessed with Leigh Radford's new book
One Skein
. This is very dangerous, because when they're just one skein projects, you feel like you can just sneak them in and it won't really just into your knitting time at all. I mean, it doesn't really... just a little...
So far I have made the bath puff and bag from Aloo for the shop and this adorable baby bolero.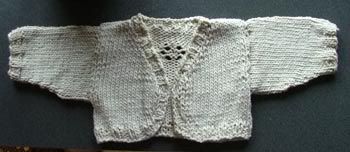 I pretty much plan to make everything in the book.