Last night I came home to find a wonderful package on my doorstep - my sockpal socks have arrived! They're absolutely amazing: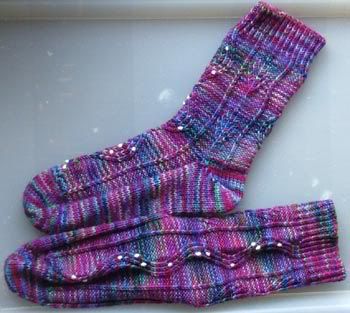 The colors are a big brighter than in reality (they're more jewel toned, ie perfect), but you can see better photos on
Monica's blog
. The really incredible part about these is that she designed them just for me. On her blog she referred to them as h&g, which she explained to me stands for Hansel and Gretal. You can see the path they followed (complete with breadcrumbs!) through the forest on the sides. She even designed the trees herself! These socks are so cool, and I am so touched.