Sockapaloooza socks complete!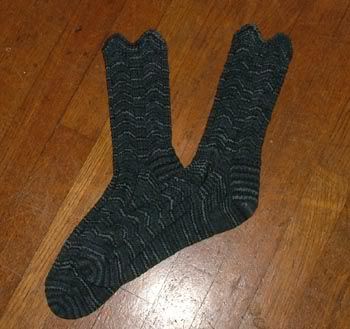 Pattern:
Broadripple
Yarn: Cascade Fixation
Comments: This ended up being something of a stealth project, since I kept waiting to post about them until Monday so as to join up nicely with Tuesdays are for Knitalongs and then forgetting to actually do it. I began these during the Super Bowl and got about two thirds of the way through the cuffs by the time Gray's Anatomy was over. After that they were a purse project with a break for the Knitting Olympics. I really like how they turned out. I've worked with Fixation before and really enjoy it. It's fast and makes a really nice material. I also really like this colorway. I have 97% of one ball left, so I think I may be able to get a short pair out for myself.
I'm getting my wisdom teeth out tomorrow, so I don't know when I'll be coherent again. If I wake up, that is. I'm not entirely convinced I will. (I know many people have this done every day without incident, but I'm very nervous for some reason.)