I'm back and I come bearing photos. The next few entries will probably be all about my vacation, so if you are uninterested, check back in a few days. Anyone else, here's how it went.
Friday:
We arrived in Bergen early in the morning. Double checking our guidebook, we realized that the primary attraction actually in Bergen is an open air fish market with many local crafts and fresh produce. Sound a little familiar Seattle-ites? We decided to skip that and head straight for the Songnefjord. We did have quite a long bus ride around Bergen to the train station, so we got a good feel for the city anyway. Apparently Bergen is Seattle's sister city, and with good reason. The buildings were different, but the land was very similar. I saw many hillsides covered in houses rising up out of lakes that reminded me strongly of looking across Lake Union to Capitol Hill or Queen Anne. It was a very cute town, but we had places to go and fjords to see.
We hopped on a train and then a bus and ended up at the beginning of our fjord cruise. I was very relieved at this point, because I had been sure we were going to die on the bus. To get to Gundvangen you have to go down Northern Europes steepest switchback road. In a very tall buss. Our driver seemed to be going around the bends awfully quickly (of course if I was driving, and staved off a panic attack, we would take 6 months to a year to get down), but we made it and I got off the bus shaking and muttering things about high centers of gravity. This is an example of when a little physics knowledge is a bad thing.
The cruise was amazing, I can't even describe it. Just look:
The photos don't even do it justice. It's all just so big and breathtaking you can't get a picture that captures it. If you look closely in the last picture you will see a farm on top of the hill on the right. The name of it translates to "steep farm, " and the "easy" way up is a ladder. Maybe climbing the hill to the busstop at home isn't so bad...
Mark was pretty funny on this part, as he was seriously jetlagged. If he was not standing he could not keep his eyes open. He didn't fade off to sleep either; it was always instantaneous and hilarious (a la Monsters Inc). Fortunately the cruise was long and the boat moved slowly so I could wake him up when there were especially cool sites.
We spent the night in Flam, the tiny town at the end of the cruise. After quite a bit of searching for the youth hostel (and some panicing as I realized exactly how much this vacation was costing us on just the first day) we gave in and stayed at a fairly pricey pension. On the up side, this was the view from our room:
Saturday:
We had a great continental breakfast, but were amused to find these things provided: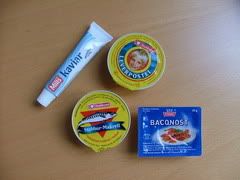 Amused, and a bit concerned. You'll note the bacon cheese has a picture of bacon, the herring and caviar have pictures of fish, and the liverwurst has a picture of... a child?!
A very scenic train ride, with a stop at the best waterfall, brought us to Myrdall to catch another train to Oslo.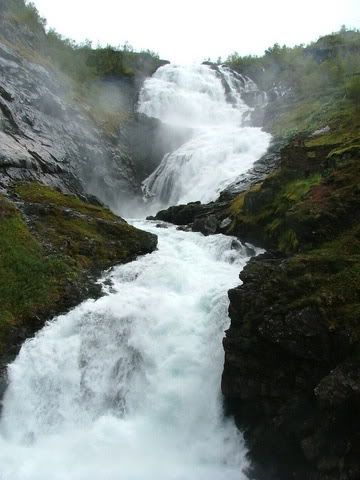 I include both photos because the waterfall is beautiful and you want to see it without us in the way, but the other is a very rare example of a vacation photo with people in it. I believe we have three on this trip.
Myrdall is nothing really other than a train station in which we had to wait an hour. It was a nice station though, and had amazingly good food at astonishingly good prices. I believe this was where we discovered that the hot chocolate in Scandanavia, no matter how cheap or even if it comes out of a machine, is to die for.
It may come up again, but I would like to mention at this point how much I love travelling in the off-season. On our fjord cruise there were two other couples and no one else. On the train from Flam there were enough empty seats that we were all able to move to whichever side was more scenic at the time. This is not the experience you would have in August, and it really enhances the trip. Hotels and sites are also cheaper, and September is early enough that sites do not have limited hours and hostels haven't closed. It's all wonderful.
Speaking of wonderful, the scenery on the way to Oslo was amazing. I only have one poor example because it took me hours to realize that I could take pictures from the train, and I fell asleep for a good bit of it (I really wish I hadn't missed it, but se la vi).
The beginning of the ride was through an area that still had lots of elevation change, was very rocky, and was clearly autumn. It was gorgeous. I saw several people biking along the water at the bottom of the fjords and through the mountains. That would be an awesome trip.
Sunday and Monday:
I really liked Oslo. It was a very pretty city, especially the harbor:
Near the harbor we went to the Norwegian Resistance Museum. It was fascinating. I had never really learned anything about Norway's role in WWII, and had just lumped them in with Sweden and figured they were neutral. Not so. They were occupied by Germany for much of the war, and the tales of the resistance movement were gripping. One thing that really struck me was the fact that even under a very sudden and effective surprise attack they were able to get the king, parliment, and
even the country's reserve of gold bars
out and safely to Britian. It was also all a very different perspective on the war; I have never before been through rooms, hours, and pages full of WWII information in which the US was only incidentally mentioned twice.
We took a ferry out to a peninsula of Oslo to see the Viking Ship Museum, the Fram, and an open-air folk museum. The Viking ships were very cool, and amazingly well preserved: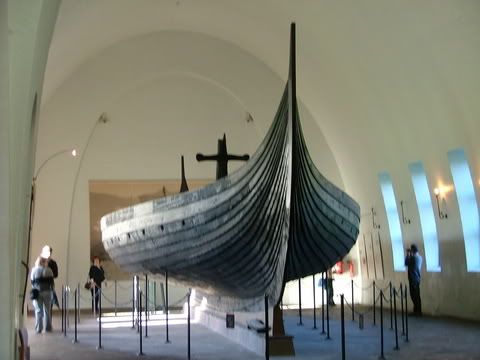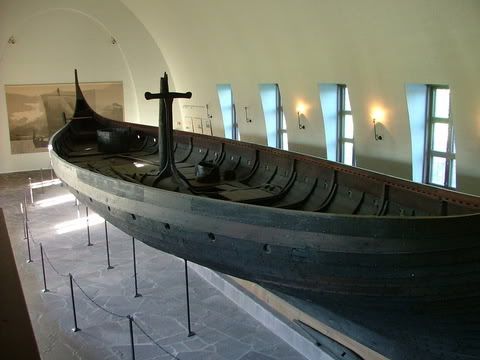 The Fram was used in many very cold journeys; by Nansen in the arctic and by Amundson to be the first to reach the South Pole, for example. I found it very funny that Amundson waited until after they had set sail to ask his crew if they would try for the South Pole record with him (they had been planning to go to the North Pole, but it had just been reached by another expedition). The Fram was caught in the ice for three years on the journey. I can't even imagine that, and they sort of expected it.
The folk museum was a bit of a disappointment, because we got there hours before they were really going to get going with the glassblowing demonstrations and such. There was a very cool stave church there, though.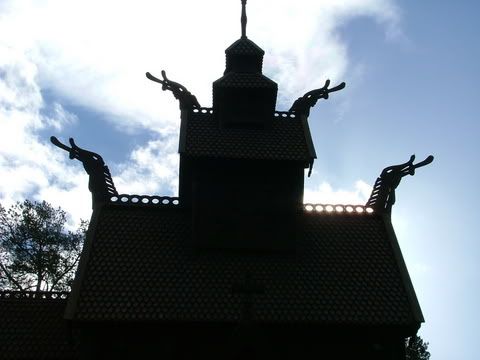 We took the bus back to the main part of town (not quite as exciting as the ferry) and hopped on a train up the mountain to visit the Holmenkollen ski jump. As per Rick Steve's advice we went past it to the end of the line and ate at the very expensive restaurant on the walk down.
It was good, though, and we got to try some more traditional Norwegian food (mmm.... meatballs and apple cake). Then we got lost and walked really far. This was the beginning of our troubles with Rick Steve's Guide to Scandanavia. It is not his best work. I have followed Rick from Spain to Prague and everywhere in between and loved him, but he lead us astray many times on this trip. His directions were horrendously lacking in many places that in his other books I have not needed an official map of the city (like his orientation walks), and sometimes were just completely wrong, as were some of his addresses. Grr. This will come up again.
We finally wound up at the train tracks and found a stop (well below where we were supposed to have ended up, I might add) and took the train directly to Holmenkollen. The view was breathtaking
We decided not to go in the museum or climb up the jump, but we did try the ski simulator. It was fun, but would have felt much more real if I was in the front of the three rows or taller so I wasn't looking mostly at the back of someone's head. Then we enjoyed the breeze and the view, which included this guy:
He looks quite a bit like the Fremont Troll. It was a nice piece of home.
We also explored Vigeland Park in Oslo. It's a beautiful park on its own, and I loved the sculptures, such as
The last thing we saw in Oslo was Town Hall. All around the U-shaped entrance were carvings of Norse legends. This was one of my favorite things in Norway, since it showed the history of the culture in a respect that was unique to this area. It seemed most of those things had been wiped out by the Church (since they were pagan) or WWII (since it was just generally destructive), so this was a treat.
These women became human for a few years and married three brothers, two of whom died chasing after them when they turned back into swans and the third waited the rest of his life for his wife to return.
We had been staying in a wonderful B&B called Ragnar and Frode's. (Technically it was just a B since we were on our own for breakfast, but that term gives a better feel for the place.) That was a good thing, because we got to stay there an extra night. After packing all of our things and lugging them to the train station, we discovered our schedule was old and we had missed the last train to Stockholm by hours. We had to haul everything back meekly and ask for another night, which fortunately they could provide. This didn't really matter since the morning train was so early that we would have plenty of time in Stockholm, but was a hastle.
I think that's enough for today. Tomorrow: Finland and Sweden.