Yesterday was the annual Mother's Day sale at Weaving Works. Look how good I was!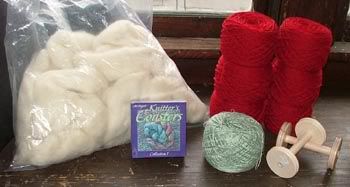 The red isn't even from the sale, it's a birthday present for my mother-in-law I picked up at the Fiber Gallery after realizing the WW sale had no good, basic yarns for sweaters. They did have a fair bit of Jo Sharp Desert Garden and Soho Summer, but I don't want to make a person use a heavy, splitty, cotton for their first sweater.
The clearance portion of the sale has yet to live up to the wonderous extravaganza it was when I first went 3 years ago (were absolutely no colors of something decent discontinued? Really?), but the rest of the sale has gotten better. Even books were on sale! That doesn't really help me much, since between my employ at the Fiber Gallery and my mom's at Barnes and Noble I can get a much better discount on anything, but I was impressed. You can see that I took advantage of the 10% off spinning supplies and picked up a few bobbins. The roving is 8 oz of corriedale, and the beautiful green is 8 oz of a really nice bamboo (I believe it's called Bambu). The little package is a set of knitting-themed coasters, and was my prize for being first in line (let's hear it for inconvenient bus schedules!).