I think it's time for a Christmas knitting progress update. Let's start with the gifts that have already been finished and given: here is a view of the lovely Orcas Islander's Scarf from Honey Lane Farms, knit in Classic Elite Inca Alpaca in color 1158: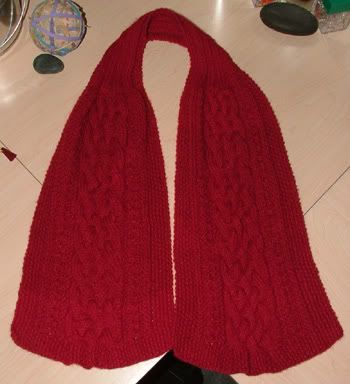 The more I look at this scarf, the more I like it. Here is a detail view: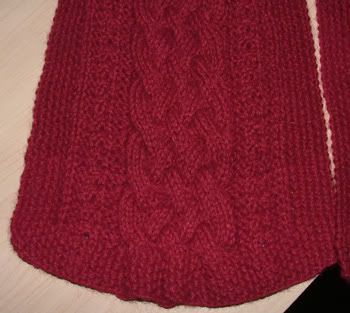 Most of the extra yarn (about 3/4 of a skein) went into these matching fingerless gloves of my own design: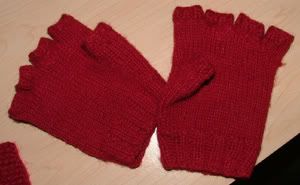 I gave both to my mother-in-law as an early Christmas present since we won't be seeing her then (oh drat), and since she would probably get more use out of it here than at home in Texas. To her credit she wore them the entire time she was here, but I noticed she had switched back to her old scarf for the trip home. I suspect they will never be worn again, unless maybe we visit them sometime in the winter after they move to Oklahoma.
I have finished one sachet loosely based on the pattern from Last Minute Knitted Gifts, and started another.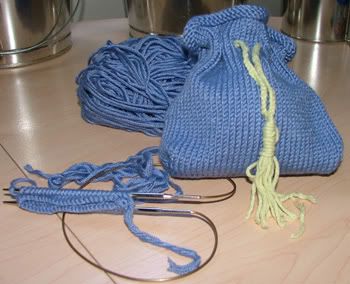 I think I may actually put the cat toys I am planning on making from SNB Nation in this one, rather than filling it with lavendar. The next one will be quite a bit smaller and more suited to being a scented sachet. They are made out of Lion Brand Micro Spun in lavendar. The tassels are Jaegar Cadiz.
The DNA scarf has only barely been started: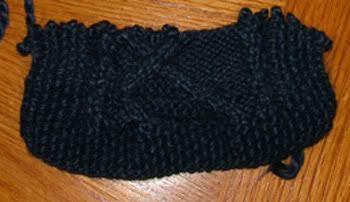 And then, of course, there are The Gloves.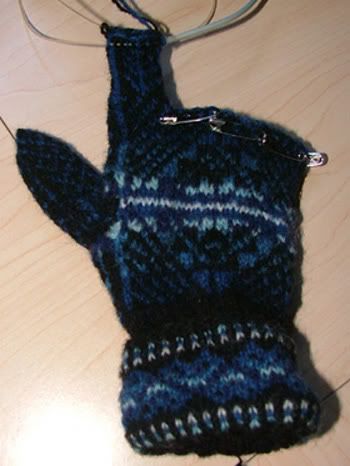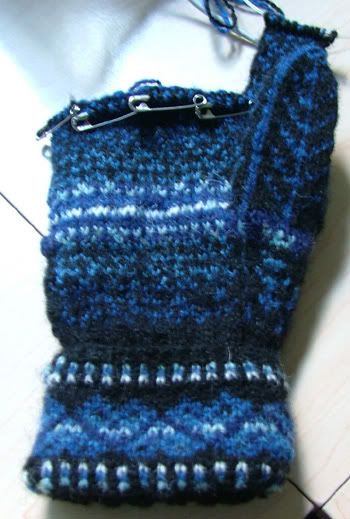 On the up side, the thumb fits now! On the down side, that one finger that is done is a bit tight. This morning I had one of my brothers do a bit of sleuthing, though, and found out the diameter of my mom's wedding ring, so at least I have something solid to go by for sizing now.
Finally, we have the world's largest Christmas stocking: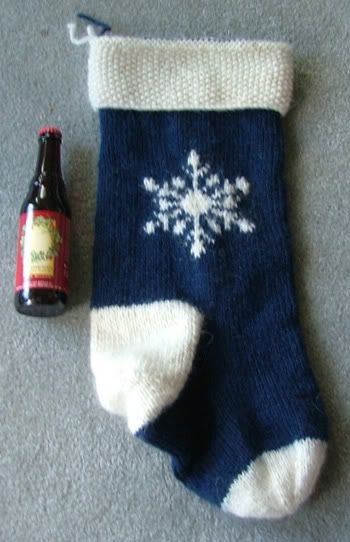 Yes, that is a bottle of beer being dwarfed by the monster stocking. Quite excellent beer, actually, and the key ingredient in my Christmas chili. (I now feel that Belgian Brewing owes me for this plug of Frambozen, but the check or free six-pack has yet to arrive. Sigh.) I'm not thrilled with the proportion of the foot to the rest, but I was out of yarn. Once I'm done with the other Christmas knitting, I'm going to redo this one smaller and fix things like that, the poofy heel, and the fact that it insists on folding right at the color change exposing the intermixed region at the top. I'm not really sure what to do about that last one. Suggestions?